Courtesy Visit by a delegation of Indian Institute of Science (29 March 2019)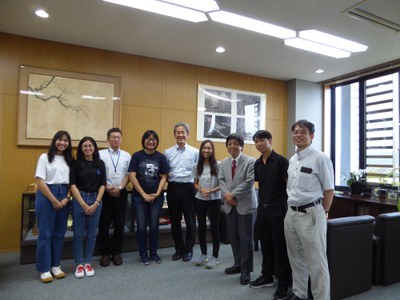 Prof. Anurag Kumar, Director of Indian Institute of Science and Prof. Sajeev Krishnan visited Dean Masahiro Ohshima of the Graduate School of Engineering, Kyoto University on 29 March 2019. 
  The institute has established in 1909 at Bangalore.  It is a highly prestigious institute that has created great research achievements.  Sir Chandrasekhara Venkata Raman who was awarded the Nobel Prize for physics in 1930 had served as the Director.
  The two universities has developed a steady partnership and signed MOU in 2017.  Prof. Sajeev Krishnan himself has collaborated on his research with Prof. Seki.
  They exchanged information regarding administrative systems and students' career path in both countries, and discussed about possible students exchange programs in the future.
  Afterward, Prof. Seki led the guests to his laboratory.
  We look forward to the partnership further promoting more areas of leading-edge researches.