Official Visity by a delegation of Mahidol University (June 4, 2019)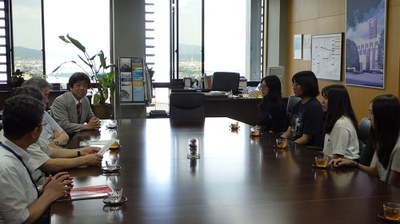 A delegation of Mahidol University, Thailand, visited the Dean of Graduate School of Engineering, Kyoto University, on June 4, 2019. The delegation was composed of 5 undergraduate students. Their visit was designed to join a short term undergraduate course program of Environmental Engineering, Undergraduate School of Global Engineering, starting from June 1 for 2 months.
    Established in 1888 as a medical school of Thailand's first hospital, Mahidol University, located in Bangkok, was reorganized as a national university in 1943. At present, it has 17 faculties, 8 colleges, 6 research institutions, 9 affiliated hospitals.  Mahidonl University is ranked No.1 in Thailand by Times Higher Education Asia University Ranking in 2019.  
    Kyoto University and Mahidol University commenced a Memorandum of Understanding (MOU) in 2014. Under the umbrella of the comprehensive MOU, the School and Mahidol University have a steady development of cooperation in research and education.  We signed the student agreement between the School of Kyoto and the Faculty of Mahidol in May 2018.
     At the visit to the Dean of the School, students extended their thanks to Dean Masahiro Ohshima for the participation in an undergraduate course program in the field of environmental engineering study which has been conducted for many years. Prof. Shigeo Fujii, Graduate School of Global Environmental Studies, and Associate Prof. Fumitake Nishimura, Department of Environmental Engineering, Prof. Noriaki Sano, Department of Chemical Engineering, Chairperson of Chemical Engineering, joined the meeting. They encouraged the students to make good researches and expected the stay at Kyoto University would be meaningful for them.