The Graduate School of Engineering signs an Agreement with National Taiwan University (2019.9.24)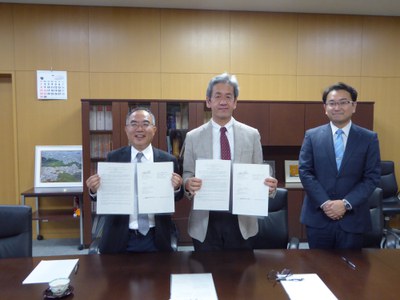 Professor Wen-Chang Chen, Dean of College of Engineering, National Taiwan University (NTU), made an official visit to the Graduate School of Engineering, Kyoto University, on September 24, 2019.  This visit was arranged to attend a signing ceremony for the purpose of promoting the acceptance of students from NTU under the auspices of Lin's Scholarship Program.
Lin's Scholarship Program is to support students in NTU to study abroad to the highest ranking universities in the world.
Kyoto University and NTU commenced a Memorandum of Understanding (MOU) and Student Agreement in 2005.  Under the umbrella of these comprehensive MOU and Agreement, the School and NTU have a steady development of cooperation in research and education.  Successful exchanges brought us to sign this Agreement between the School and Lin's Scholarship Program Committee of NTU.  With the signing of this Agreement, the two institutions look forward to enhancing not only to accept but also to exchange students.
Following the ceremony, Coordinator & Prof. Chen, Prof. Masahiro Ohshima, Dean of the School, and Coordinator & Prof. Kazuo Tanaka, Department of Polymer Chemistry of the School, exchanged views to develop the future student exchanges.