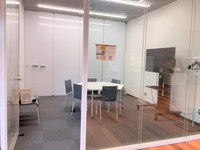 The Group Study Rooms are spaces where conversation is allowed and are located on the 1st floor of Katsura Library (reservation required).
Please use it as a place for group work, discussion, and online meetings.
For non-speaking purposes, please use Reading Room or Open Lab/Research Commons.
Overview
Hours

9:00 am - 8:50 pm on weekdays (available until 10 minutes before closing)

*In March and September, Katsura Library closes at 5:00 pm, so Group Study Rooms are available until 4:50 pm.

Who can use
Limited to Kyoto University users
Number of rooms
6 rooms (3 rooms are divided into A and B by movable walls) 
Capacity

Up to 5 people per room

*2 rooms can be connected by opening the movable wall for 6 to 10 people. If you wish to use a room more than 6 people, please contact Katsura Library in advance.

Equipment
Wireless LAN (KUINS-Air) is available. Whiteboard, power outlets and extension cords are also available in each room.
How to Reserve 
Access KULINE > "Room Reservation".
Select "Katsura" in the "Library" pull-down to narrow your search to facilities at the Katsura Library.
https://kuline.kulib.kyoto-u.ac.jp/opac/rsv/?counter=201000&lang=1
Check the availability of the facility reservations and click on the time slot for the room you wish to reserve.


Room reservations can be made for a maximum of 2 hours at a time, and up to two reservations can be made at the same time (reservations can be made 30 days in advance).

When asked to log in to MyKULINE, use your ECS-ID (Accounts for Students) or SPS-ID (Accounts for Faculty and Staff).
On the "Room Reservation Entry", enter the "time" (selectable in 10-minute increments), "purpose", and "number of persons".
Click [Continue], and confirm the details. If all is well, click "To apply".
You will receive an acceptance email.
On the day and time of use, please come to the Information Desk on the 2nd floor of Katsura Library. You will receive a key in exchange for your Student/Faculty/Staff/Library card.
To change or cancel a reservation, please go to KULINE > "Room Reservation".
Notes
If the use of the room does not start 30 minutes after the reserved start time without prior notice, the reservation will be canceled.
Room reservations can be made for a maximum of 2 hours at a time. If you would like to extend the use, please make another reservation (up to 2 reservations can be made at the same time).
Please turn off the PC speakers, use headphones instead.
We have disinfectant goods, so please wipe your desk before using it.
After use, please turn on the circulator and leave the door open for ventilation.
Contact
Katsura Library
Email: 090stosho [at] mail2.adm.kyoto-u.ac.jp