[Library Online Lecture] How to write acceptable English scientific papers - from the viewpoint of publisher - (Mar. 18)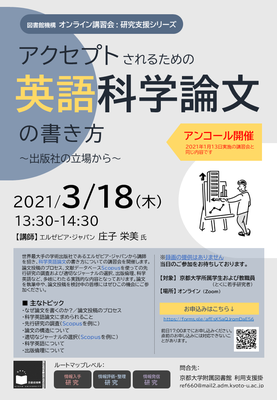 This is the replay of the lecture on Jan. 13, 2021. 
We will hold a lecture on how to write scientific English papers.
The speaker is a member of Elsevier which is the biggest academic publisher in the world.
This lecture covers wide range of practical contents such as paper submission process, search for previous research and select appropriate journal by using Scopus, research ethics, and scientific English.
If you are writing a reserach paper or considering it, let's join us.
Details
Date & Time : 13:30-14:30 Mar. 18 (Thu), 2021
Speaker : Emi Shoji, from Elsevier Japan
Place : Held online (through Zoom)
Application form
Access URL will be informed after your application.
Notes
Please apply for by the day before the lecture date. We may not be able to respond to a sudden application.
Only Kyoto university members can apply for this lecture.
Recorded video is not be offered. We look forward to your participation on that day.
This lecture is presented in Japanese.
Main Topics
Why Write Scientific Papers / Paper Submission Process
What needed in scientific English Papers
Search for Previous Research by using Scopus
Article Structure
Scientific English
Research Ethics
Contact
Main Library User Support Section
TEL: 075-753-2636
Email: ref660 [at] mail2.adm.kyoto-u.ac.jp
Related News