Learning Commons (The North Library/The South Library)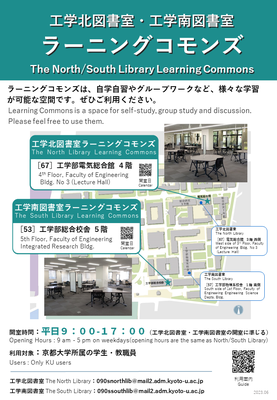 Overview
The North/South Library Learning Commons opened in May 2022. The Learning Commons is a space for various learning activities such as self-study, group study and discussion and Kyoto University users can use the space freely. The rooms are equipped with whiteboards and outlets, and can be used for multiple purposes.
Location
The North Library Learning Commons
       4th floor, Faculty of Engineering Bldg. No 3 (Lecture Hall) [MAP]
The South Library Learning Commons
       5th floor, Faculty of Engineering Integrated Research Bldg. [MAP] 
Number of Seats
The North Library Learning Commons    Desks:48/Chairs:55
The South Library Learning Commons    Desks:45/Chairs:53
Use of the Learning Commons
Available Users
Kyoto University (KU) faculty/staff

KU graduate students

KU undergraduate students
-Non-KU users (including alumni) cannot use Learning Commons.
Opening Hours
Weekdays (Mon-Fri) 9:00am-5:00pm.
Drink Policy
You are allowed to bring your own drinks, and all drinks must be in spill-resistant beverage containers. (e.g., water bottles, aluminum cans with screw lids, plastic bottles, etc.) Paper cups without lids and pull-tab cans are not allowed.

Eating is not allowed in the Learning Commons.
Measures to Prevent the Spread of the Coronavirus
Please sanitize your hands with alcohol sanitizer at the entrance before use.
Sanitizing products are available. Please wipe your desk etc. before use.
Other Notes
Library staff go the rounds regularly.

Please look after your own valuables. Do not leave your bag with valuables in your seat.

Do not leave your luggage unattended for a long time for the purpose of securing a seat. The number of seats is limited, so please use them appropriately.

Please leave the room at closing time (5:00pm). Please make sure that you have all your belongings with you.
Contact
The North Library
E-mail:090snorthlib [at] mail2.adm.kyoto-u.ac.jp
The South Library
E-mail:090ssouthlib [at] mail2.adm.kyoto-u.ac.jp