Open Lab / Research Commons
Outline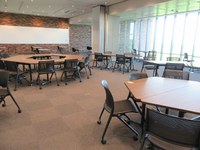 The Open Lab and Research Commons are facilities that have different environments and facilities from the laboratory and are intended to promote exchange among researchers, encourage students' intellectual activities, and promote collaboration with researchers outside the university. 
In addition to group work and discussions, it can also be used as a venue for academic conferences and poster exhibitions.
The wall separating the Open Lab and the Research Commons is movable (whiteboard), it can be used as one area.
Currently used separately to prevent COVID-19
(From 2021.11.17)
Open Lab
The desks are arranged in a school style. For personal use only. Reservations are not required.
Research Commons
It can be used by groups of up to 4 people. Conversation is also possible.
We have desks for 3 and 4 people. Reservations are not required.
You can use it individually, but we give priority to group use.

【Cautions】
・Wearing mask is required.
・Please disinfect your fingers with alcohol disinfectant at the entrance before using.
・Please disinfect the area around your desk with disinfecting wet wipes at the entrance before and after use.
・Please refrain from changing the arrangement of seats and acrylic boards.
Area and Number of seats
Open Lab:133m², 40 seats (Maximum)
Research Commons:231m², 70 seats (Maximum)
Equipment
Item
Details
Number of units
Movable Table
Trapezoidal table for 1 - 2 people. Can be combined into various shapes
52
Trapezoidal table for one person
4
Chair
Folding chair with casters. No armrests
110
Movable Whiteboard
Vertical 2-sided Folding Type (Both Sides)
10
Wall Whiteboard
Fixed to north wall of Open Lab
1
Projector (Ceiling Hanging Type)
Used by projecting onto the south wall of Research Commons. (Required switcher)
The projection image can be set individually for two units
2
Acoustic Mixer / Switcher
Connects to the projector and the projector's audio system
1
Hand Microphone
Used as a set with an acoustic mixer. There is one microphone stand for long and one for short
10
Pin Microphone
Used as a set with an acoustic mixer
2
Large Format Display
Screen size: 49 inches with a movable stand
4
Vertical Digital Signage
Screen size: 50 inches with a movable stand
2
Podium
1
Tabletop Acrylic Plate
H 60cm x W 68cm
35
You can also rent cables. Please consult with us as necessary.
Network environment
The following wireless LAN can be used.
KUINS-Air
eduroam
Carrier Wi-Fi (public wireless LAN)


(NTTdocomo、KDDI(au)、SoftBank)
Please refer to the following page for details.

Kyoto University Integrated Network System (KUINS) > Wireless LAN
Users
Kyoto University faculty members
Kyoto University graduate students
Kyoto University undergraduate students
A person who participates in activities held at open labs and research commons hosted, cosponsored, or organized by a person falling under 1-3.
Service Hours
In principle, the opening hours of Katsura Library are the same.
However, please contact us if the date and time of the event is outside the service hours when you use it as a venue for an event.
Reservation
Terms of reservation
A group of five or more people.
The reservation time must be between 9:00 AM on the opening day and 30 minutes before closing time.
In principle, the duration of use shall be 3 hours or less per use. However, if there is no other reservation, you can make a reservation for more than 3 hours.
Cautionary Notes:
If the service does not start within 30 minutes after the reservation start time, it is considered that the service has been canceled.
Application for reservation
 Please refer to the link below for details depending on the usage.
Contact
Kyoto University Katsura Library
E-mail:

090sgakushi [at] mail2.adm.kyoto-u.ac.jp