[Katsura Library] Welcome to Katsura Library!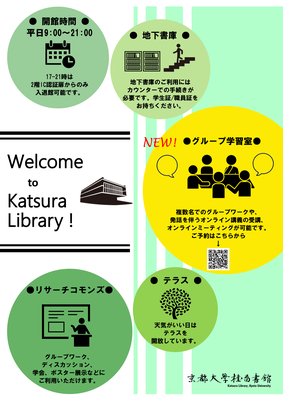 Welcome to the new year at Katsura campus!
Katsura library supports your study and research with various facilities and services.
If you have any trouble collecting items or writing papers please feel free to ask us!
How to use the library
Opening hours
9:00-21:00 on Weekdays
After 17:00 please use the door on the 2nd floor, which can be opened by the IC card.
Floor
There are diverse facilities in Katsura Library.
For more details, please see "Floor Guide".
Open Lab & Research Commons
These areas are designed to encourage researches` interacting and promote intellectual activities of students outside of their affiliated laboratories. You can also use these areas to work with a researcher who is not a member of Kyoto university.
It is possible to use not only as the place for group work or discussion but also as the exhibition hall of an academic conference.
Media Creation Room & Studio
Media creation room is for create the contents of research and study. (Reservation required)
We also have Studio to record or edit a movie and make a graphic contents.
Group Study Rooms
Spaces for group study and discussion. (Registration required)
Theater Room
Space for viewing video materials. (Reservation required)
Equipped with soundproofing, you can watch Blu-ray and DVD on a 4K-compatible 85inch TV.
The Katsura Library Virtual Tour
Online space reproduced in 3D.
You can access it through your own PC and smartphone, and learn how to use Katsura Library.
Other
Online Services
Here are useful online services for searching and collecting library materials.
Online services enables you to search items or get research information without coming libraries. Please make a good use of it!
"Katsura-no-Niwa" : Catalogue for Advanced Research of Graduate School of Engineering
This project shows the research activities worked on at the graduate school and faculty of engineering.
Through this project, we introduce "Research Seeds" which are difficult to see but blossom in the future.
"Katsura-no-Niwa" exhibition booth is in Katsura library.
The movies of interview and demonstration experiment are on YouTube. Don't miss it!