【Katsura Library】Did You Know? How to Make Use of the Library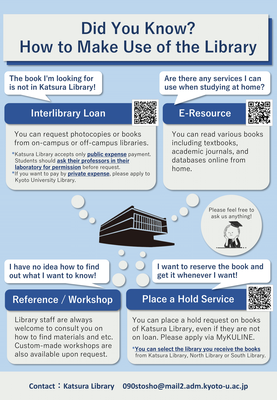 Welcome to Katsura Library to all new students, faculty and staff!
Katsura library supports your study and research with various services. If you have any trouble collecting items or writing papers, please feel free to ask us!
How to Use the Library
Opening Hours
9:00~21:00 on Weekdays
*After 17:00, please use the door on the 2nd floor, which can be opened by the IC card. If you have only a pouch-type ID card or a facility use certificate, you must apply for a library card.
Place a Hold Service
You can place a hold request on books of Katsura Library, even if they are not on loan. You can select the library you receive the books from Katsura Library, North Library or South Library. Please apply via MyKULINE.
Interlibrary Loan Services
You can request photocopies or books from on campus or off campus libraries.
Katsura Library accepts only public expense payment. Students should ask their professors in their laboratory for permission before request. If you want to pay by private expense, please apply to Kyoto University Library.

E-Resource
You can read various books including textbooks, academic journals, and databases online. You can search items or get research information without coming libraries. Please make a good use of it!
Reference and Workshop
Library staff are always welcome to consult you on how to find materials and etc. Custom made workshops are also available upon request. If you have any questions, please feel free to contact us.
Other
The Katsura Library Virtual Tour
Online space reproduced in 3D. You can access it through your own PC and smartphone, and learn how to use Katsura Library.
"Katsura-no-Niwa" : Catalogue for Advanced Research of Graduate School of Engineering
This project shows the research activities worked on at the graduate school and faculty of engineering. Through this project, we introduce "Research Seeds" which are difficult to see but blossom in the future.
"Katsura-no-Niwa" exhibition booth is in Katsura library. The movies of interview and demonstration experiment are on YouTube. Don't miss it!
Contact
Katsura Library
TEL: 075-383-2344(15-2344)
Email: 090stosho [at] mail2.adm.kyoto-u.ac.jp